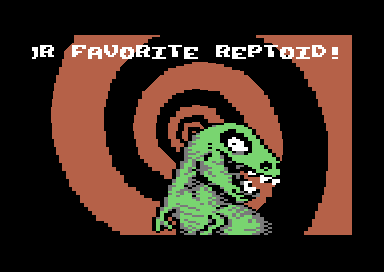 Tinfoiloid
My little contribution to the deadline 2021 old school demo competition. I hadn't written any code since about a year and I'm glad I managed to put something together. Technically not impressive, but at least displaying 15 sprites using mutiplexing. The tune is by dalezy. The demo won 1st place.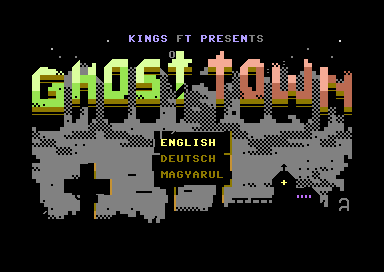 Ghost Town+ 64
I released a greatly extended version of the game Ghost Town for the Plus/4 and, for the first time, Ghost Town for the C64. Please visit the dedicated site for the download.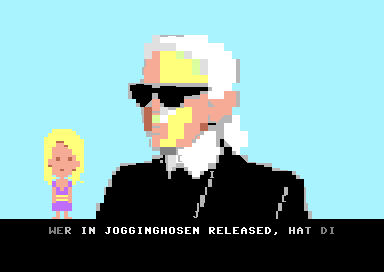 Chantal No. 5
A fake release for the Deadline 2019 demo party under the handle Aal Schlagerfeld in coorporation with dalezy. I wasn't even drunk when I made this. Won 3rd place.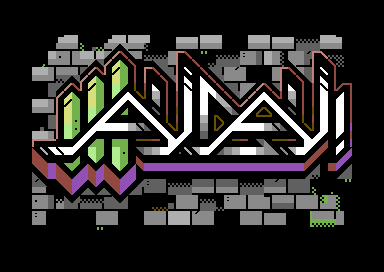 Mayday! Wallpiece
PETSCII logo. I had no motive in mind when I started and just went with the flow.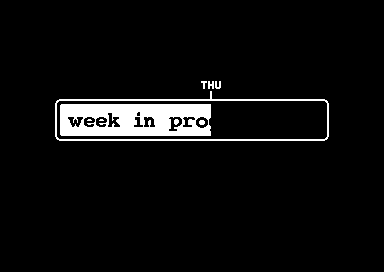 week in progress
Released at BCC#13 in February 2019. It scored 3rd place. I contributed many multicolor gfx and coded the title screen and the arrow part.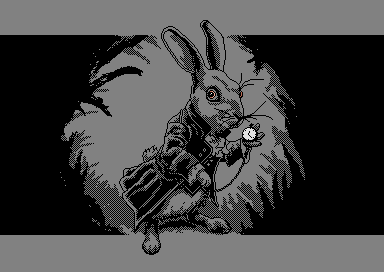 The White Rabbit
Released at BCC#13 in February 2019. It won the graphics compo. I always wanted to create a dark "Alice in Wonderland" image and I'm quite happy how it turned out.
Life On Mars
I was curious if I could convert my multicolor image "Moon" to PETSCII. It ended up on Mars. The Plus/4 version scored 3rd place at Deadline 2018.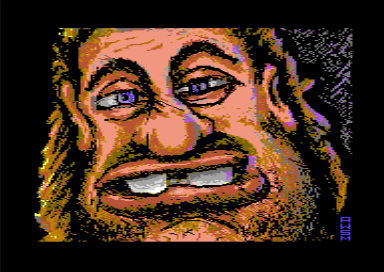 Holge
I got a new phone with a touchpen and created this C64 multicolor image. Haven't done any drawing in a while but I had fun with it.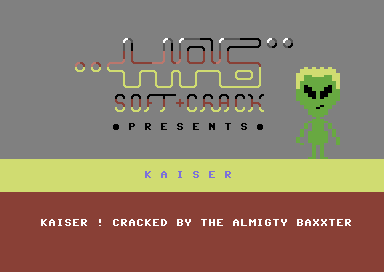 HPG Soft+Crack
What if HP Baxxter of SCOOTER was a cracker? We'll probably never know, but this cracktro may be the closest thing...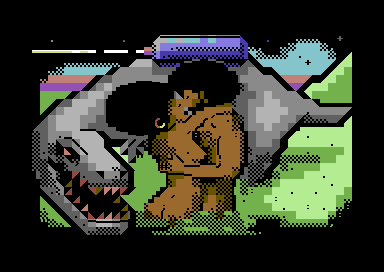 Love In Time Of Laser Raptors'
My pure PETSCII entry to the graphics compo at BCC#11. It scored 2nd place. Like many of my releases, this started out as something completely different. There is a C64 and a C16 version.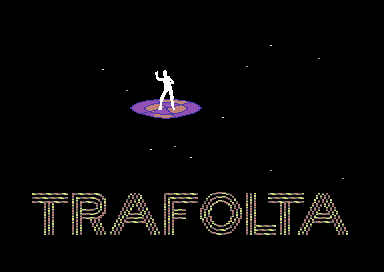 Trafolta by Mayday!
"Trafolta" by Mayday! We scored first place at the BCC#11 party 2017! Just shortly after the massive X demo we went into battle again, wounded but alive and hungry :D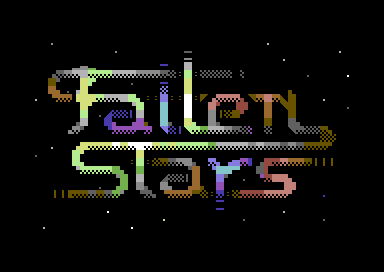 Fallen Stars by Mayday!
"Fallen Stars" by Mayday! We scored 9th place at the X party 2016!
Click here
to see a composition of the PETSCII animation and watch the demo on youtube.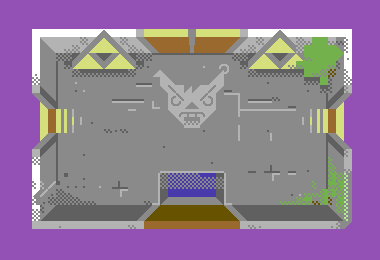 Zelda PETSCII Room
A Zelda-style room created in pure PETSCII. I wanted to turn this into a small game, but lost pace and motivation along the way. The usual. I'm quite pleased with how it turned out, however, so I released this screen at least.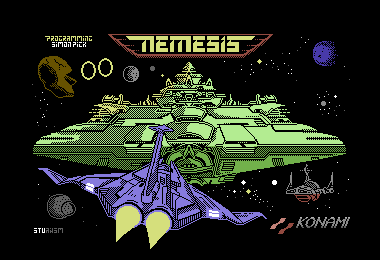 Nemesis & Gradius Crack
Mayday released a great Jewel Crack of Nemesis & Gradius. I fixed and updated the original title screen, which was converted from the ZX Spectrum game. My first contribution to a crack and my first hires screen.
Love
Scored 4th place at BCC#10 2016. Started a long time ago, but only finished in a rush just before the compo started. Some rasters in the border and top and border sprites to extend the lady to full beauty.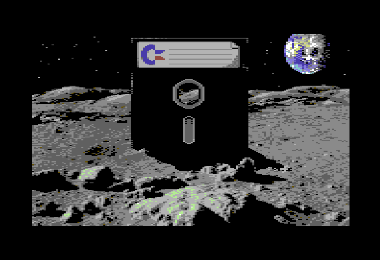 Moon
Released at BCC#10 on Feb 27, 2016, this screen scored 3rd in the graphics compo. I made it almost a year ago and never finished it to the level I intended.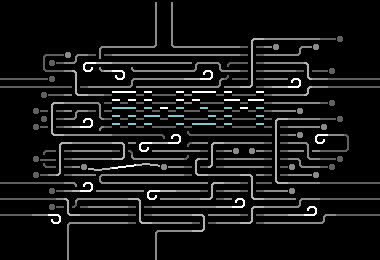 Schaltkreis
Just a small PETSCII screen that plays around with the fantastic tune from Eddie. I decided to release it as is, knowing that it would never become 100% as I wanted it to be. Some raster bars and sprites involved.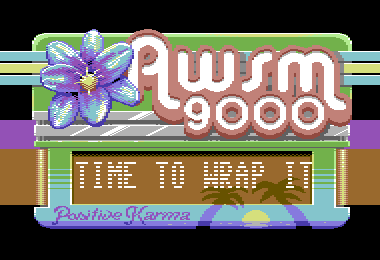 Positive Karma
A conversion of the original screen from the Full Of Sinus demo. The picture got more colorful to compensate for the lack of a DYCP scroller and the zoom effect. I fought hard to get the raster bars stable.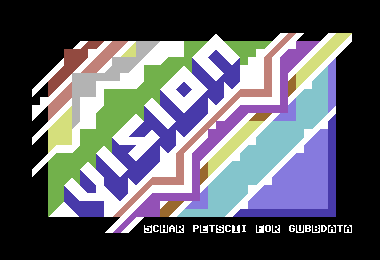 Vision logo PETSCII
My second PETSCII attempt. If you look long enough, you might notice that it resembles a postcard, with mountains in the back, the beach in the front and the logo being the hotels.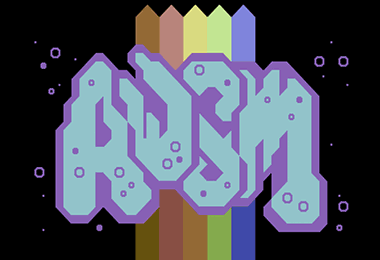 nyanPETSCII
My first PETSCII logo. The main screen area is pure charset, but I opened the top and bottom borders and put some sprites in it to extend the image.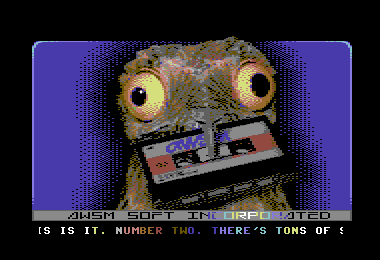 Look mom I'm an Eagle!
My first conversion of a screen from the Full Of Sinus demo. Minor tweaks on the image and a color wash effect on the logo and scroller to compensate for the lack of a custom font.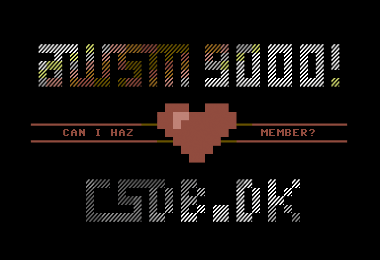 Can I haz member?
My second C64 program, serving as request to get accepted as a member on csdb.dk. You can see that it is still pretty much the same code that I used for the first demo.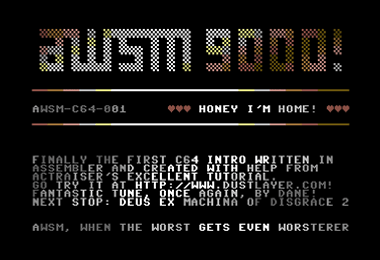 first
My first demo on the C64 after about 25 years. Nothing special by any standards, but very important for me to get back into demo development.